Child Anesthesia For Cardiac Surgery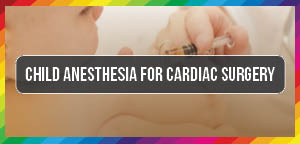 During the preoperative visit, a member of the Anesthesia team will discuss with the family and patient the use of preoperative medications. The decision regarding whether to administer a preoperative medication will depend on the age of the child, the type of cardiac defect and the anxiety level of the child.
The following are the main drugs mainly used for child
· Morphine
Morphine is a narcotic that produces sedation and analgesia (blocking the sensation of pain). Morphine may be used as a premedication for certain types of congenital heart defects such as Tetralogy of Fallot or other cyanotic congenital heart diseases.
· Atropine
Infants under 6 months of age and children with Down syndrome will sometimes receive a medication called atropine prior to Anesthesia. Atropine is known as an anticholinergic agent, which means it works on the nervous system to produce, among other things, dry mouth and increased heart rate.
· Midazolam
Midazolam is the drug most commonly given before surgery. In some cases, morphine may also be used. Midazolam (or Versed®) is a short-acting benzodiazepine (sedative) that can be administered to children orally, intranasally or through an intravenous catheter (IV).