Coronary Heart Diseases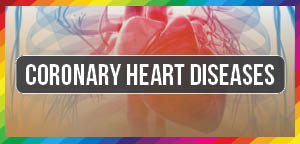 Coronary heart disease (CHD) is a disease in which a waxy substance called plaque (plak) builds up inside the coronary arteries. These arteries supply oxygen-rich blood to your heart muscle. When plaque builds up in the arteries, the condition is called atherosclerosis. The build-up of plaque occurs over many years. If blood flow is not proper to the heart muscle then it is call Angina. Hypoplastic left heart syndrome is a complex and rare heart defect present at birth (congenital). Over time, CHD can weaken the heart muscle and lead to heart failure and arrhythmias. CHD is the most common type of heart disease.
Main type of heart coronary diseases are; atrial septal defect, Cineangiography, ventricular septal defect, Coarctation of the aorta, transposition of the great arteries, tetralogy of Fallot, acquired heart diseases, aortic dissection, myocardial infarction, pleural effusion, Endocarditis, Atrial Fibrillation and atherosclerosis. About the sudden cardiac death (SCD) is the unexpected death caused by loss of heart function or cardiac stroke.